Login
The easiest way to access the Website Management system is to go to the website itself. At the bottom of any page is the Cradur logo: "Built by Cradur". Just below this you should just see the word 'edit'. (This is as discrete as possible as it isn't meant for general use.) Click on 'edit' and you will be directed to the Website Management system.
If you are not already logged in to the system, you will be prompted for a user-id and password. See The Log-in Screen below.
If you are logged in, or after giving your user-id and password, you will come in on the editing page for the webpage you were looking at. All aspects of editing a web page are described in the Edit Pages section of this manual.
All other functions (uploading images, events calendar, documents, user administration, etc.) are accessed through the Control Panel. Click on the 'Menu' button on the blue tool-bar at the bottom of the page to get to the Control Panel.
The Log-in Screen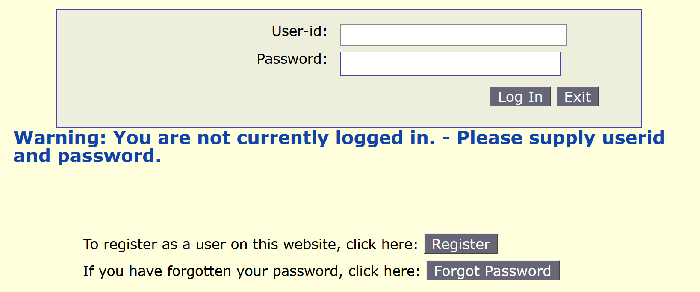 Enter your user-id and password.
Note that the password must be entered as defined, i.e. in the same case (upper or lower) or number - "NewY0rk" is not the same as "Newyork" or "NewYork" or "NewYOrk"!
However it doesn't matter in which case you enter your user id. "DavidJones" is the same as "davidjones".
When you have entered your id and password correctly you will see the Cradur Website Administration Menu.
Logging In For The First Time
If you haven't logged in before, you have to be registered on the system. Click on the 'Register' button, and follow the instructions on the Register Screen.
Forgotten Your Password
If you've forgotten your password, don't worry. Click on the 'Forgot Password' button and fill in the details on the screen.
Inactivity Time Limit
If you've not been active on the system for more than the inactivity time limit, you'll have to retype your password on the Time Out screen.
Password Expiry
Your password has to be renewed evry so often. See the Pasword Expiry screen.
Multiple Sessions (Tabs)
It is possible to open the Cradur administration system for your website on several tabs in your browser simultaneously, this only requires one login. So you can, for example, edit pages in one language on one tab, and in another language on another.
The consequence of this is that if you logout on one tab you will be logged out on all tabs - so be sure you have finished working before logging out.